Galvanised Steel Modular Ramps
The Ramp Factory's semi-permanent Steel Modular Wheelchair Ramps are provided in modular sections to allow you to create the wheelchair ramp required for your height and area. The kits, which are made in Europe, are available in 1100mm and 1500mm widths and include a comprehensive 2-year warranty.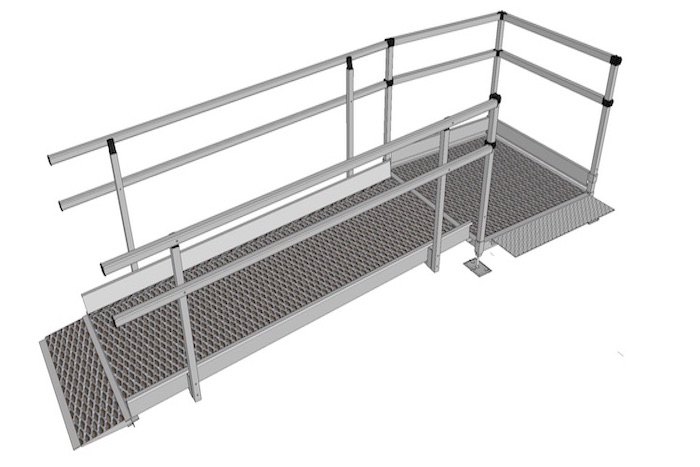 Categories
The Ramp Factory wheelchair ramps for semi-permanent use have been carefully designed and made from adjustable and fully modular sections. They come with a 2-year guarantee and are offered at competitive prices. As they are only semi-permanent, they do not need to comply with building regulations (Part M or Part K). The assembling of our modular ramps can be done by any competent DIYer and we supply full installation instructions. All instructions and a video for assembling the system can be found here.
Our narrower version is perfect for private properties to assist with making them wheelchair accessible. They can also be supplied for more public places like care homes, schools and doctors' surgeries. As they are semi-permanent, they do not need to comply with building regulations and can also be dismantled and used elsewhere.
The wider versions are ideal to be used with the public and commercial buildings. The systems can support 200kg or 400kg per square meter meaning they can be made to take higher than the standard weight capacity provided (200kg).
Don't forget to take a look at our aluminium modular ramp systems.
Modular Wheelchair Ramp Features Include:
Fully modular design that can be adapted and changed easily
Designed to fit right up to the door
Long life galvanised zinc coating prevents rusting
High capacity construction
Available in 877mm and 1276mm internal usable widths.
Multiple handrail options including custom powder coated options.
Up to 1400mm in height as standard
Up to 400kg/m capacity (on request)
2 Year Guarantee