Rubber Coated Ramps for Steel Tracks
Our rubber-coated ramps for steel tracks have a profile depth of 120mm and are available in widths up to 720mm and can take a maximum capacity of up to a huge 26,300kg! They come with an industrial-strength rubber coating which provides long-lasting grip for machines such as steel rollers and plant vehicles. These EU made ramps are TUV certified.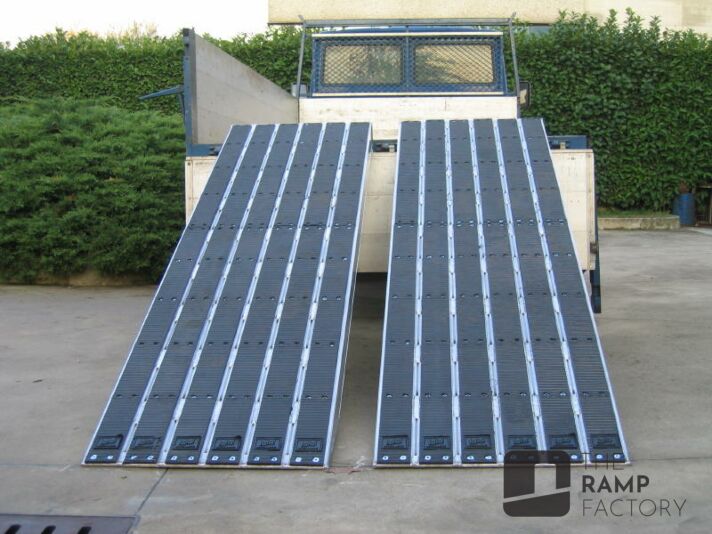 Categories
The Ramp Factory's extensive selection of rubber coated aluminium loading ramps will be compatible with almost all construction machines, as their solid aluminium internal design structure will offer incredible strength and durability for long and frequent usage in all situations. The rubber coating on the ramps also offers superior grip, even in wet conditions, which will provide extra protection and safety when loading and unloading heavy materials. Additionally, the aluminium construction is corrosion resistant, and the ramps are engineered to be lightweight yet strong.
The Ramp Factory rubber coated ramps for steel tracks features include:
4 Different Connection Options Available
Capacities Up to 26,300kg available
Lengths from 1000mm to 5500mm available
Widths up to 720mm available
Bespoke vehicle ramps built to customers requirements/designs
Ramps lie flat for easy storage when not being used
Manufactured from lightweight aircraft grade aluminium (type 6005A)
Robot Welded for Solid, Strong and Durable Construction
Lightweight for easy handling and compliance with Health & Safety
Guidelines Fully TUV Certified Tested to 200% loading capacity
Angled foot which allows for smooth access onto the ramp when using wheels or tracks
Available only without edges
Nylon Handles are available to increase manual handling in any way safety of heavy duty ramps, please contact us for a quote.