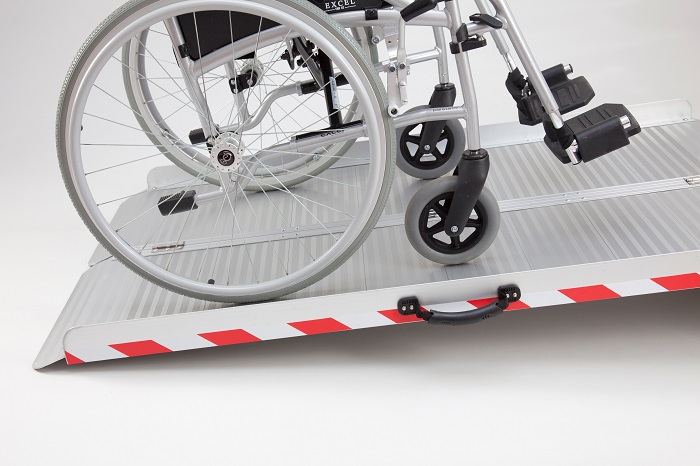 Categories
Which wheelchair ramp length? Use our ramp length calculator! Learn more
The Ramp Factory has one of the most comprehensive ranges of temporary disabled access ramps in the UK. We are known for having high quality products and providing great value for money. Our range includes budget wheelchair ramps, premium wheelchair ramps, channel ramps, and wheelchair ramp accessories.
Enabling you to maintain access and mobility, our range of ramps for disabled access will give you your independence back at home and on the road. We offer disabled access ramps VAT exempt for qualifying individuals and registered charities.
Our lightweight, robust and durable ramps are made as portable and temporary solutions to easily overcome steps and thresholds. We offer competitive pricing and fast delivery and our disabled access ramps are made using the best materials to ensure they are the greatest on the market. The Ramp Factory has a huge range of disabled access ramps available so we will almost certainly have something that fills yours or your customers needs.
Our disabled access ramps are portable solutions made to help wheelchair users navigate stairs, steps, thresholds and other obstacles. These wheelchair ramps are perfect for access front doors, commercial buildings and gardens.
To ensure you select the correct ramp, you will need to measure the dimensions of the place you are placing the ramp. The main measurement you will need is the total vertical rise from ground up to where the ramp will rest which we call "load height". For manual wheelchairs we would recommend a minimum gradient of 1:6 so, for example, for a 1 foot rise you'll need a 6 foot long ramp. For mobility scooters we recommend a minimum gradient of 1:8 so, for a 1 foot rise you'll need a 8 foot long ramp.
For more help with selecting the right ramp, take a look at our wheelchair ramp buying guide or contact our customer support team