Modular Ramps
Made in Europe, our range of steel and aluminium semi-permanent wheelchair ramps are perfect for mobility scooters, wheelchairs and walkers. These modular ramps are available in galvanised steel and aluminium and can be customised to meet your requirements, for example, to include handrails, steps and additional turning platforms to fit your space.
To view more portable wheelchair ramps with handrails view our Wheelchair Ramps with Handrails range.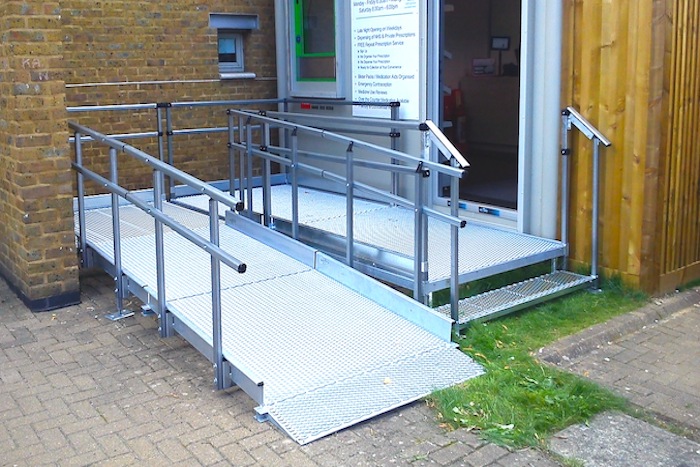 Categories
The Ramp Factory's modular wheelchair ramps for semi-permanent use are a great solution in areas where wheelchair and mobilty scooter ramps are used more frequently and are needed for long-term use. They do not need to be fixed permanently into place so once they are no longer needed they can simply be taken apart and stored away.
We offer support to select the best solution for your needs and we provide full quotations and guidance along the way. We work with you to create the best layout for your needs including creating simple drawings with all the dimensions and showing the ramps layout. The assembling of our semi-permanent ramps can be done by every confident builder and assembly instructions are supplied with every system.
The Ramp Factory's semi-permanent ramps can be assembled by every competent builder and come with a 1, 2 or 3-year guarantee. As they are only semi-permanent, they do not need to comply with building regulations (Part M or Part K).
Our Modular Wheelchair Ramps for Semi-Permanent use include:
Fully modular design that can be adapted and changed easily 
Designed to fit right up to the door
Long life anodised aluminum or galvanised steel prevents rusting
High capacity construction
Available from 900mm up to 1500mm wide ramp system.
Handrails options available
Customised powder coated handrails available
Up to 1300mm in height as standard
Up to 400kg/m capacity
Alternatively, you can build your own modular system with The Ramp Factory's semi permanent wheelchair ramps and turning platforms.