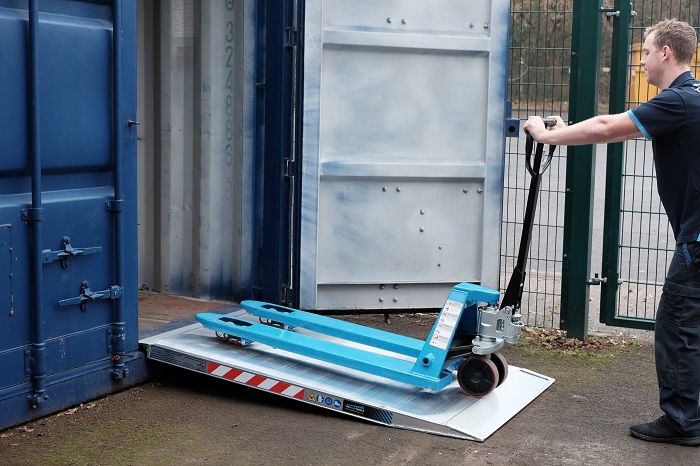 The Ramp Factory's pallet truck ramps are designed with low clearance pallet trucks in mind. Simply place the pallet truck ramp upon the step, kerb, or container and begin loading. Designed to ensure a smooth gradient, these TUV-certified pallet truck loading ramps are available in lengths up to 2400mm. The Ramp Factory's pallet truck ramps feature lightweight aluminium construction which makes them easy to transport and handle. Slip-resistant surfaces provide additional loading safety. They are also corrosion-resistant and designed to last.
All Pallet Truck Ramps

The Ramp Factory's TUV certified pallet truck ramps are made from lightweight aluminium and robot welded for extra strength. They are suitable for a maximum load height of 175mm and are great for getting pallets in and out of containers as well as over kerbs. The ramps can be used for capacities up to 1000kg.
Main features:
Rest on connection: to fit just rest on and start loading
Can be used with pallet trucks
Lies flat for easy storage when not being used
Manufactured from lightweight aluminium (type 6005A)
Robot Welded for Solid, Strong and Durable Construction
Lightweight for easy handling and compliance with Health & Safety Guidelines
Fully TUV Certified to 1000kgs capacity as standard
1000kg capacity
Angled foot, this allows for smooth access onto on floor containers
No side edges to prevent any impediment while loading
Optimised ramp weight ensures the ramp stays in place
Lengths from 1800mm to 2400mm available
Large stock held for free of charge next day delivery
Customisations available, such as edges, different head connection or custom cut load height are available for an additional charge
Bespoke van ramps built to any length or width 
Nylon grab handles are available to increase the safe manual handling of the heavy duty ramps, please contact us for a custom quote
For loading heavier things such as vehicles, please take a look at our container ramps or wedge ramps.