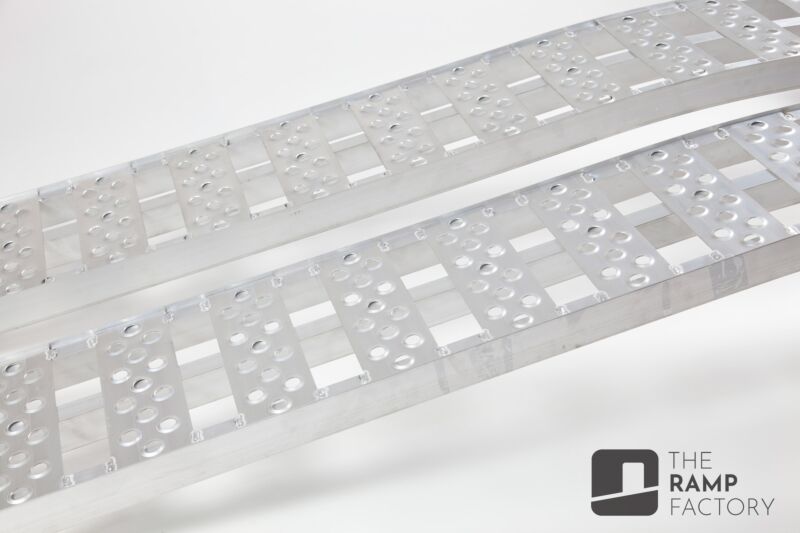 The Ramp Factory's non-folding loading ramps are perfect for garden equipment, ride-on lawnmowers, and other wheeled machinery. When not in use, these are designed with easy storage in mind and are available in capacities up to 1000 kilograms. They provide a secure and safe way to load and unload wheeled machinery onto trailers, utes and vans, with their non-slip surface making them ideal for wet or slippery conditions. The robust construction and heavy-duty capacity make them the perfect solution for any heavy-duty application.
Our aluminium loading ramps feature cut-out surfaces for improved grip and safety, whereas our aluminium channel ramps are built with a flat surface which makes them perfect for trollies and machinery with smaller wheels.
All Non-Folding Van Ramps
Please note those ramps are not suitable for tracked machinery; please see our Aluminium Ramps for Plant & Machinery if you require ramps for us with tracked machinery.
Features Include:
For domestic and professional use
Lengths up to to 4000mm available
Capacities up to 4500kg available
Widths available: 200mm to 315mm
Curved ramps available for improved ground clearance
Lightweight for easy handling
Angled foot, this allows for smooth access onto the ramp when using wheeled vehicles
Flat-top/no edge design gives greater flexibility of use
Professional loading ramps are TUV Certified