Container Ramps Buying Guide
Are you looking to easily load and unload items into containers? The Ramp People offer an array of solutions to help you load pallet trucks and containers into containers or up kerbs. We understand that often it is hard to load items with low ground clearance. Our ramps are built with this in mind, ensuring they provide a smooth gradient to make loading easy. Our ramps offer solutions for loading capacities up to 10,000kg.
For heavy duty Container Ramps, for example if you are loading machinery including forklifts, we recommend viewing our Rubber Container Ramps and Aluminium Container Ramps. For loading lighter items, such as pallet trucks, we would suggest our Pallet Truck Ramps or Wedge Container Ramps which have a maximum capacity of 2920kg.
If you are seeking to load and unload containers when they are located on the lorry, we would suggest viewing our Mobile Yard Ramp.
Rubber Container Ramps
Our Rubber Container Ramps are modular solutions, provided in sections to allow one person to put the ramp out in place and remove it after use. The modular pieces also means the ramps are easy to store when not in use.
Dog bone connectors are used to hold the sections securely into place. The ramps are provided in a width of 2200mm to cover the full width of the container. As they are rubber, they are extremely durable with a capacity of 10,000kg. They can be left outside however, please note you do need to remove the ramps to allow you to close the container.
The Rubber Container Ramps are available in standard heights 150mm, 200mm, 250m and 300mm, however as they are modular section we can offer it at any height as long as the height increase every 500mm. The ramps are built to a 1:8 – 1:9 gradient, depending on the load height selected, for smooth loading making these perfect for loading not forklifts and pallet trucks, but also vehicles.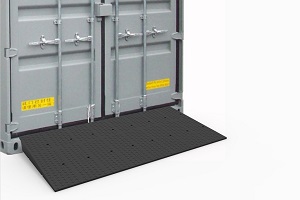 &nbsp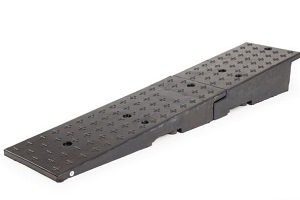 &nbsp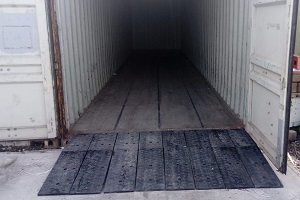 shop now
Aluminium Container Ramps
Our Aluminium Container Ramps are provided as a pair. We have a wide range available, suitable for heights from 120mm – 400mm with capacities ranging from 1250kg – 7500kg. The ramps are produced in the EU and are all TUV certified and customisable. Simply rest the ramps onto the container, or kerb, and start loading.
The ramps are perfect for loading machinery, including forklifts, up heights of up to 400mm. Like the Rubber Container Ramps, they are built to accommodate items with low ground clearance.
As the aluminium container ramps are fully customisable, we can of course cut the ramps for alternatively load heights if required. Alternative connection types can also be provided.
The foot of the ramps are all cut for the advertised load height to ensure the foot of the ramp rests securely on the ground during loading. It is important to only load at the advertised load heights, loading below/above the recommended load height will prevent the foot end resting securely on the ground and make loading unsafe. The warranty will also be voided. Please note, the ramps are not suitable for solid wheels.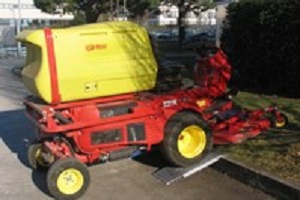 &nbsp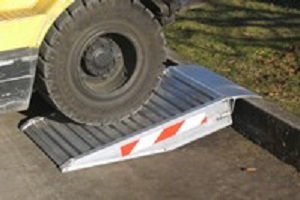 &nbsp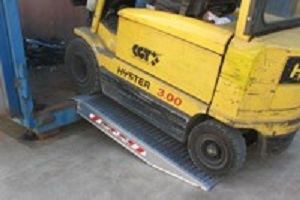 shop now
Pallet Truck Ramps
Our Pallet Truck Ramps are the perfect solution for loading pallet trucks into containers, up kerbs or up steps. They are designed to load up heights of up to 175mm and are provided with a 1000kg capacity. They are provided with a width of 1000kg, making them suitable for most pallet trucks. They are provided in lengths up to 2400mm to ensure you obtain a smooth gradient for loading, especially as pallet trucks generally have low ground clearance.
The Pallet Truck Ramps are TUV certified, produced in Europe and are of course customisable. If you require the ramps to be cut for an alternative height or have any other specific requirements, please contact our team who will be happy to provide you with a customised solutions for your needs.
The ramp is simple to use, simply rest it onto the container or kerb and start loading. Like the Aluminium Container Ramps, the foot of the ramp is cut for the specific load height so it is important to only load at a maximum height of 175mm. The angled foot ensures smooth entrance onto the ramp.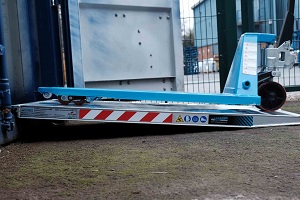 &nbsp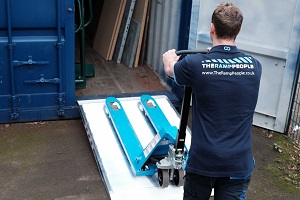 &nbsp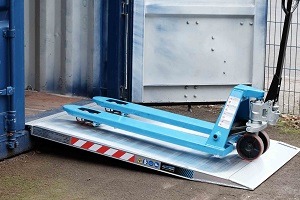 shop now
Wedge Container Ramps
The Wedge Container Ramps simply sit up against the step or container, rather than resting onto the step/container. They are TUV certified, produced in Europe and fully customisable.
The ideal kerb ramp; the TRP-BAC range comes with both 430kg and 2920kg capacity, with lengths of 500mm to 800mm to fit to your doorways and steps are available in heights up to 120mm and standard width is 1000mm however this can be changed if required as this can be customised. Made from the finest aluminium our wedge container ramps are durable, long lasting and easy to maintain. A simple solution for overcoming pavements and small obstacles – you can transport wheelbarrows, heavy equipment or even provide wheelchair access should you need it.
The wedge ramps are the perfect solution for loading pallet trucks and trolleys and equipment up heights of up to 120mm, for example within warehouses or factories. The chequered surface design provides optimal grip.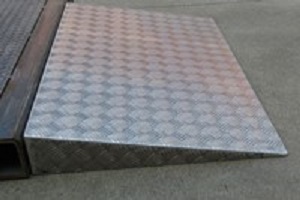 &nbsp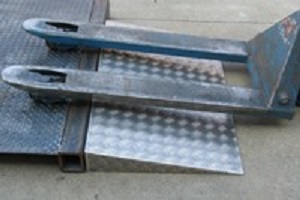 &nbsp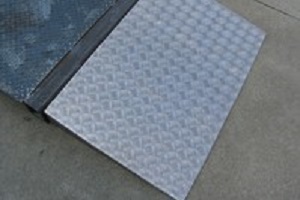 shop now
Rubber & Plastic Kerb Ramps
For heights up to 150mm, we also offer a range of Rubber Kerb Ramps, and Plastic Kerb Ramps, which can assist with loading up heights between 4mm – 150mm.
The ramps range in capacity and gradient depending on the option chosen however, our Rubber Kerb Ramps up to 70mm provide a perfect, durable but cheap solution for loading up heights of up to 70mm. The ramps are built to a 1:10 gradient, making them perfect for items with low ground clearance.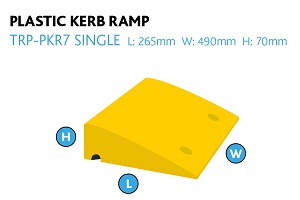 &nbsp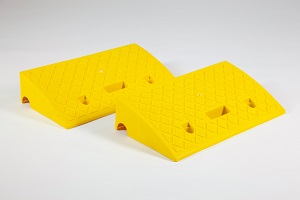 &nbsp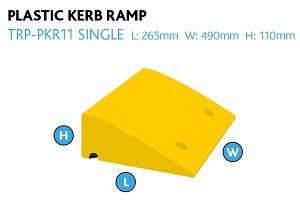 shop now
Our Rubber Kerb Ramps with yellow reflectors are provided in capacities up to 40,000kg however, please remember these are built to a steeper gradient and therefore we would not suggest using these for loading items with low clearance, such as forklifts and pallet trucks. They are perfect however for loading vehicles into containers. Bulk discounts are offered on our Rubber Kerb Ramps.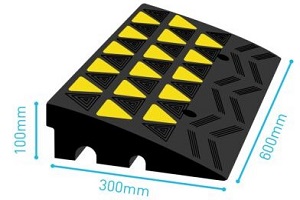 &nbsp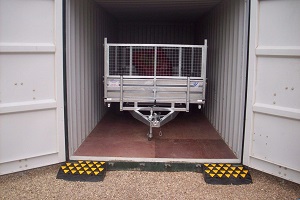 &nbsp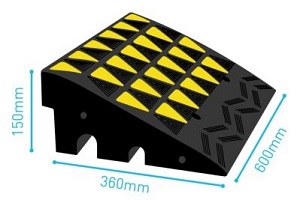 shop now
If you are unsure whether the Kerb Ramps are suitable for you, please contact our team.
Yard Ramps
The Mobile Yard Ramps are a great solution for quickly and safely loading and unloading containers with machinery. They are a perfect way to speed up the loading and unloading of containers, in turn saving your team time and saving the company money in the long term.
Due to the smooth gradient, the Yard Ramps are suitable for forklifts and items with low ground clearance. In addition, plant machinery can of course also drive up the ramps.
The ramps use a hydraulic assist to allow you to adjust the load height, allow the ramp to be used as heights between 800mm – 1650mm. At over 11m in length, the ramps provide a smooth angle to allow items with low ground clearance, including forklifts, to easily go up the ramps.
The Ramp People's Yard Ramps are available in two widths and are provided with a capacity up to 15,000kg.
The Mobile Yard Ramps are CE certified and provided with a non-slip mesh surface. The ramp incorporates British steel to ensure you receive optimum quality, just one of the reasons why our Yard Ramps hold their financial value for such a long period of time.
The ramps can easily be maneuvered into place with a forklift, due to the swivel fork mount. Steel chains and clamps are provided for additional safety.
Handrails are an optional extra if you plan to have team members walking up the ramp however, we of course advise for your team not to walk up the ramp while plant machinery is on the ramp. If you require any further customisations please simply ask our team who will be happy to assist.

shop now
if you require any further information about any of our product range or require a customised solution, don't hesitate, please contact us.