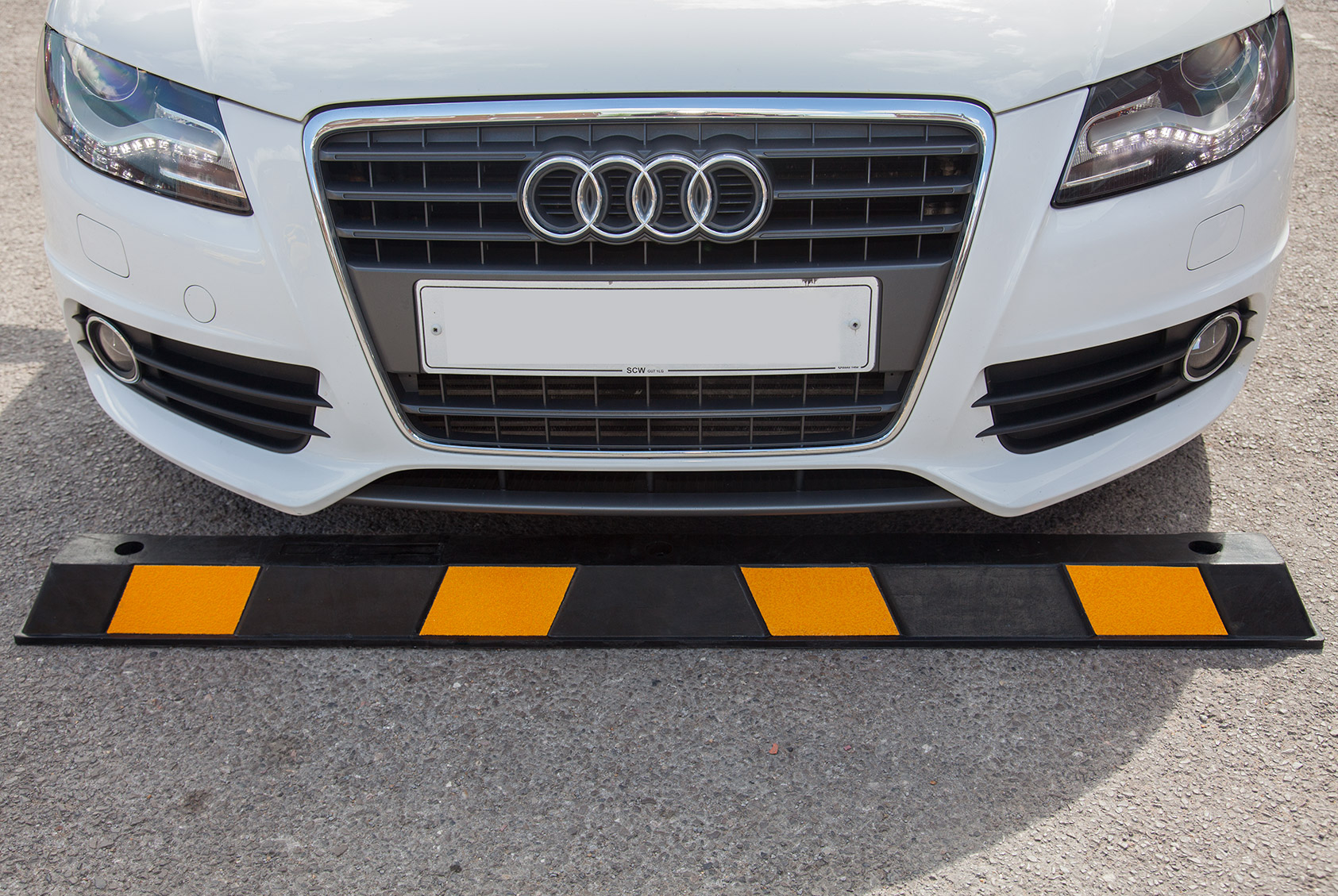 It is the goal of The Ramp Factory to improve your parking experience with rubber parking Parking Stops. There are both premium and standard rubber wheel stops available, making them the preferred choice of industrial sites, retail parks, hospitals, car park operators and commercial sites throughout the United Kingdom. Depending on the requirements of the customer, we offer a range of sizes and prices.  The Ramp Factory also offers excellent customer service, with quick delivery and helpful advice to ensure that the customer gets the right product for their needs. We are dedicated to providing a high-quality product for an affordable price.
Why use parking stops?
It is customary to place parking stops at the end of parking spaces to guide drivers and control parking in a car park. The purpose of this is to prevent cars from parking too close to kerbs and walkways in order to prevent bumpers from hanging over the edge and obstructing pedestrians. In addition to providing a barrier between two rows of parking spaces, parking stops can also be used to prevent the collision of vehicles.
Quality rubber parking stops
In order to ensure long-term, weatherproof durability, we offer a wide range of car park parking stops made from high-grade rubber. Additionally, you will find a variety of sizes that will suit your specific parking area. In order to avoid further hazards to pedestrians and drivers, these rubber parking stops are marked with high visibility yellow stripes. With free fixings and an SDS drill bit included with each rubber road stop, they can be installed on concrete or tarmac. This makes them suitable for almost any parking lot surface.

Why not ensure complete car park safety with our column protectors?
These are ideal for warning drivers about dangerous corners and protecting both cars and car park property in a collision. Perfect for demarcating parking spaces and loading bays, our heavy duty rubber parking stops can also prevent collisions between vehicles and walls. This is done by controlling car movement within parking lots. Our parking stops and parking blocks come in a variety of sizes and the individual sections can be joined together to make any length required.
The Ramp Factory's rubber parking stops are the preferred choice of car park operators, retail parks, airports, commercial and industrial sites throughout the UK and Ireland.
The Ramp Factory's Parking Stop Range features:
Large stocks held of our wheel stops for fast delivery

Delivery directly to site

Expert advise on choosing the right parking block

Unbeatable prices, including fixings and SDS drill bit
Fixing your parking stop in place is simple with our wide range of manufacturer approved bolts for both concrete and tarmac. Installation on either surface is straightforward.
For all your traffic management needs, please view our speed humps, and flow plates.