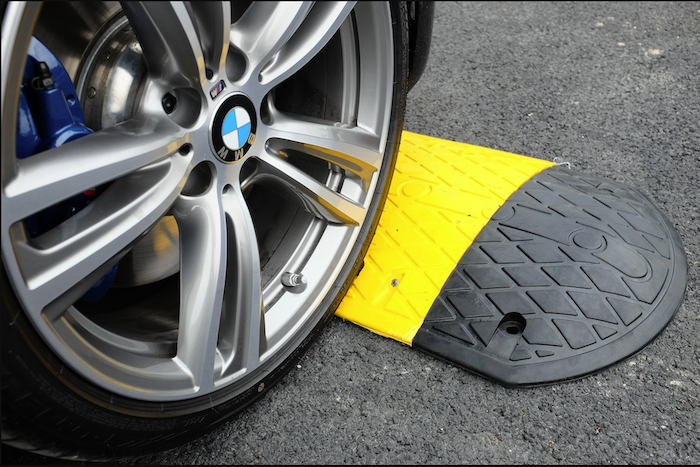 The Ramp Factory offers a large range of speed bumps with included fixings for tarmac and concrete. The Ramp Factory offers 3 types of Road Humps: 50mm high (5mph), 75mm high (10mph) plus 60mm heavy duty Road Humps for HGV's. We supply a SDS Max drill bit free on request. Please add this to your cart at the checkout. Featuring a reflective chevron on each middle section of our speed bumps, which indicate the direction flow of approaching traffic for approaching traffic, our speed bumps are made of high density recycled rubber and painted yellow and black. During the night-time, these markings are highly visible, keeping your roads and lanes safe.
All Road Hump
Estimated back in stock end December - pre-order now
Road Humps can be installed directly onto both concrete and tarmac; additional sections may also be purchased to extend the length as required. Additionally, The Ramp Factory offers a range of flow plates to promote one-way traffic. Additionally, we sell speed signs and speed limit signs that can be wall mounted to alert motorists to speed limits and speed bumps; we also sell sign posts that can be used to display the signs wherever you need them. The risks posed by cars and trucks speeding through a property are well understood by all property owners. All measures are taken to reduce this risk through the use of speed bumps. By using a 50mm high speed ramp you protect people and property, reducing traffic speed to less than 10 mph. The complete speed bump kit includes mid-sections, end-caps and free fixings for tarmac and concrete. All of our Road Humps are made from a 100% recycled solid rubber compound to guarantee longevity and durability. The 10 and 10mph Road Humps have a 20,000kg weight capacity. All our speed bump mid-sections have reflectors fitted as standard. The 5mph high speed bump is ideal for traffic calming in residential and low traffic areas. The slightly lower 10mph high yellow and black sections provide you with a highly visible speed bump to reduce traffic speed in areas where there is a lot of traffic, areas with children at play and significant volume traffic junctions. Please do not hesitate to contact our sales team for friendly and helpful advice if you are unsure of which ramp to choose or have any questions regarding pricing or availability. The length of the product can also be extended upon request.