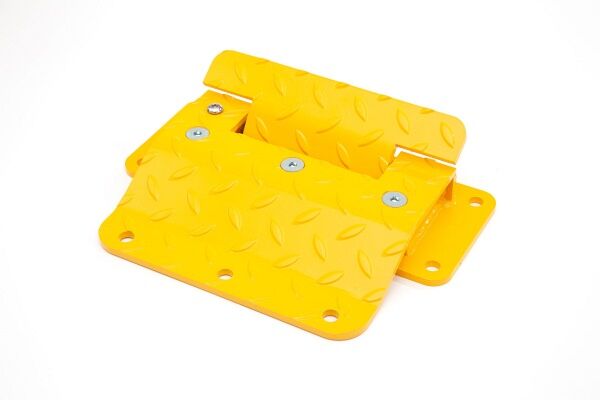 The purpose of The Ramp Factory's traffic flow plates is to facilitate one-way traffic management and improve road safety. Their use encourages the flow of one-way traffic and includes heavy-duty options, making them ideal for industrial estates, parking lots, business facilities, and other locations. Additionally, The Ramp Factory's plates are easy to install and can be set up quickly.
All Traffic Flow Plates
Estimated back in stock end December - pre-order now
One way traffic Flow Plates 
The traffic control flow plates are highly visible in yellow for safety and can be locked down for temporary use in both directions. These traffic flow control plates are made using a heavy gauge thick chequered plate designed to to be highly durable in all weathers. Our surface-mounted flow plates also come with free fixings for both concrete and tarmac surfaces and are easy to install for a completely secure fit. We offer heavy duty flow plate solutions for HGVs and lightweight road plates for car traffic only. 
Directional Flow Plates
The Directional Flow Plates, also referred to as alligator teeth or sharks teeth flow plates, support traffic to flow in one direction. 
All of our flow plates are provided with fixings for tarmac and concrete free of charge. They are designed for maximum speeds of 5mph. 
It is recommended that flow plates are used in conjunction with speed bumps and safety signs to further help control traffic and improve safety in your area. 
For all your traffic management needs, please view our speed humps, and road stops.